Executive Summary of the Inaugural Economic Outlook Survey of German Industry in Pittsburgh
Remarks by Mark A. Miner - German American Business Circle of Pittsburgh - May 3, 2011
Two years ago, the Pittsburgh G-20 Summit provided a rare opportunity for our local German companies to become more visible in the global spotlight, as they represent thelargest collective foreign employer in Pittsburgh region.
As you know, for the G-20 Summit, we created a website in German and English to tell the success story of our companies.
Last year, for the German American Business Circle's 20th anniversary, we developed a comprehensive website in German and English to tout the benefits of doing business here.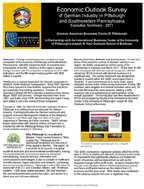 This year we decided to take this work to a new level by gauging the pulse of our companies. As you know we conducted our inaugural economic outlook survey. We asked 180 leaders of these companies to answer questions about their optimism, demand, hiring, facilities and many more pressing issues.
More than half responded – we were very pleased with the widespread interest. To analyze the data, we partnered with the International Business Center at the University of Pittsburgh Katz Graduate School of Business. Thanks to the excellent cooperation from Jacqueline Saslawski and Jo Olson, we were able to glean more about what's on your mind, the good things happening at your companies and what keeps you up at night.
The result is a four-page executive summary document. Copies are available for you to take home with you. We also will be posting this in English and German on the GABC website later this week.
Here are some highlights:
Optimism - 66.0 percent said economic conditions are "moderately" or "substantially" better in comparison with six months ago. That's good news.
Demand - 61.5 percent said customer demand for products and services would increase by the end of the year.
Hiring - 55.2 percent said they will increase the size of their workforce by the end of the year.
Facilities - 26.6 percent said they plan to add facilities in our region in the next year.
Now for the news that is not so positive.
Talent - 31.2 percent are very concerned about hiring qualified talent in our region, and 31.1 percent are very concerned about retaining qualified talent.
U.S. Economy - 65.5 percent are very concerned about the state of the U.S. economy.
U.S. Federal Debt - 50.1 percent are very concerned about U.S. federal debt levels.
Middle East Conflict - 47.8 percent very concerned about unrest and changes in the Middle East. I wonder if that attitude has changed in light of the events this past week in Pakistan.
Inflation/Costs - 51.1 percent are very concerned about the rise in inflation and costs.
Health Care - 75.5 percent are very concerned about health care costs.
Oil Prices - 52.2 percent are very concerned about the price of oil.
A regression analysis of the data shows that the two most important factors influencing business outlook and future profit performance are the State of the U.S. Economy and the price of oil.
Thank you to all who participated with us. We want this to be an annual survey so we can stay current with you and measure changes over time.
[Miner serves as chief marketing officer for Malin Bergquist, certified public accountants, one of the founding sponsors of the GABC.]