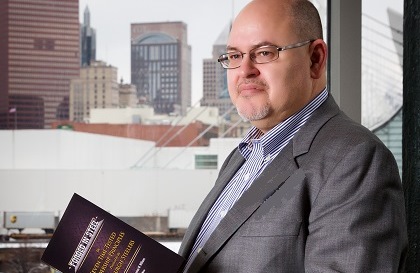 Mark A. Miner is a pioneering public relations and marketing advisor who since 1983 has helped craft the image of professional service firms as they increasingly grow their business and become key decision-makers at the table of corporate and civic leadership.
He's also publisher of the widely acclaimed niche book Forged in Steel: The Seven Time-Tested Leadership Principles Practiced by the Pittsburgh Steelers, co-authored by Tunch Ilkin and Damian Williams, the first book analyzing time-tested leadership through the prism of a National Football League franchise and Judeo-Christian values.
His services the past year have focused on counseling clients in their COVID-19 disclosures -- on responses to federal and state investigations -- in transitions due to change of ownership -- and advocacy for clients' subject matter expertise in podcasts and social media programs.
In 2005, at the age of 43, Miner was inducted by his peers into the prestigious "Renaissance Hall of Fame" of the Public Relations Society of America, the world's largest organization for PR professionals, for his trail blazing work in the fields of law, engineering and accounting.
Miner works directly with CEOs, managing partners, business owners and executive directors to build and protect their differentiating brands more effectively on social media, the web, in the news media and in writing. He also helps clients hone relationships with prospects and referral sources to become pre-qualified for sales opportunities through image refinement, strategic networking and relationship-building.
Above all, he knows how to think strategically, execute effectively, work successfully with difficult personalities, exercise sound judgment and "get things done." Trust is the centerpiece of his practice.
Often functioning as local marketing counsel for national and superregional companies, or for smaller growing companies not wanting a full-time marketing leader, his clients have been in the fields of law, accounting, wealth management, engineering and economic development as well as health care and international resort development.
Focus on Vision and Strategy – Miner's enduring objective is to provide the best leverage for clients' marketing investments through development of vision, strategic planning and sound execution. This involves carefully selecting target audiences and then determining the best way to reach them with credibility and impact. He also leads clients in personal marketing planning, helping CEOs and partners as well as up-and-comers to grow their reputations and relationships.
A Law and Accounting Marketing Pioneer – For a decade, from 1991 to 2002, Miner was head of media and public relations for Pittsburgh's Buchanan Ingersoll, one of the 100 largest law firms in the nation, during a time when the firm more than doubled in size from 200 to 450 lawyers, and quadrupled from four to 16 offices. At age 30, he was the first in-house professional in the city to specialize in law firm PR, reflecting the dramatic changes in legal marketing of the early 1990s.
Many of his innovations have had lasting impact, including Pittsburgh's first law firm annual report, relationship-building with journalists and early website initiatives. He developed a media relations framework when the firm advised the Mayor of Pittsburgh to select a buyer for the Pittsburgh Pirates, choose the site for the new baseball-only PNC Park and develop a plan for financing a new football stadium and new convention center; won the nation's first Y2K trial decision; and represented Conrail in its $10.5 billion hostile anti-takeover battle.
Since 2001, he has served as outside marketing counsel for two of the Pittsburgh region's top 25 public accounting firms, including three years in-house for one on a half-time basis. Among others, he helped drive a CPA firm's sponsorship of the Pittsburgh G-20 Summit Partnership in 2009, including creation of a website in German to attract clients and support economic development initiatives of the Allegheny Conference. One client's unique story has been featured on the front page of Accounting Today, a national journal of the field. His work has helped clients and their teams become more widely known and positioned to attract new business.
Media Relationship Building – Trained as a journalist, Miner is a proponent of two-way relationships with journalists to build trust and credibility, and has been named in Fortune and People magazines for his work. He has authored a column in the National Law Journal -- the bible of the legal field -- on "Lawyers and the Press: Bitter Enemies or Friends?" He also has been featured in Law Office Administrator on "Free and Good Marketing: It's a Matter of Knowing How to Get Quoted." He's been quoted in industry publications as well as regularly interviewed in Pittsburgh's major newspaper, radio and TV media.
On a national scale, he has worked with key journalists at Forbes, the Wall Street Journal and Business Week to produce major news coverage for clients. He has planned and executed concurrent media relations programs for headquarters and a dozen-plus regional offices; handled hundreds of interviews; positioned practice leaders as "go-to" media experts; and advised clients on how to respond to dicey press inquiries.
Social Media and Content Development – An early advocate for a strong Internet presence, Miner helps clients manage their social media content and website presence. The work entails building audience and then producing frequent, high quality and visually impactful content. In 1996, he led the development of Buchanan Ingersoll's inaugural website, and the firm's second generation site was praised by a top legal industry publication as "aesthetically pleasing, easy to navigate and loaded with content." He proactively manages many social media properties for clients and has recorded scores of podcasts so that clients can share important content in innovative ways, with one client establishing his own channel on SoundCloud.
Crisis Communications - Miner has advised clients and their customers when faced with media scrutiny in difficult situations and government investigations and now COVID-19. This involves gathering facts and making recommendations so that clients can advocate their position and maintain public confidence while fully cooperating with the authorities. In some instances he has been entrusted to serve as a client spokesman.
Awards for Clients - With Miner's guidance, clients have received major, prestigious awards that set them apart in their fields. These have included the National Law Journal's "100 Most Influential Lawyers in America" (twice), the Pittsburgh Business Times' "Fast Tracker" and "CFO of the Year," Ernst & Young's "Entrepreneur of the Year" and local chamber of commerce "Business of the Year," among others. In one year, he and his team submitted 15 award nominations and won 12 to dramatically elevate an engineering firm's brand in Pennsylvania and New York.
Annual Reports and High Quality Publications – Miner's track record has included high quality printed literature such as annual reports for law and accounting firms, a commercial bank and an educational trust. He has authored or edited thousands of biographical and practice profiles and understands how they collectively can define an organization's unique personality.
Buchanan Ingersoll's groundbreaking Annual Report, which Miner helped create and write for nine years, has been widely followed by competitors and called "unusually instructive" by The Insider's Guide to Law Firms. He was a co-editor of the Buchanan Ingersoll's public reports on behalf of the Mayor of Pittsburgh, spelling out the urban planning justification for keeping the Pirates in Pittsburgh and building a baseball-only ballpark. He also ghost-wrote two annual reports for the Pittsburgh Downtown Partnership.
Accomplishments in the Engineering Field – From 1985 to 1991, Miner was a PR executive with Michael Baker Corporation, a nationally known, publicly traded engineering and energy firm that, under employee control, rebounded from near bankruptcy to re-emerge as one of the country's top firms. He was directly involved with a Wall Street Journal feature on Baker's ESOP and Engineering News Record cover articles about Baker's "fall and rise," the Pittsburgh International Airport and Philadelphia's Vine Street Expressway. He was editor of the Baker Magazine, a client focused publication with a circulation of 13,000. In 2017-2018, he served part-time as director of corporate communications for a superregional architectural/engineering firm.
Museum Administration - With a deep love for history and preservation, Miner served for five years as chairman of the Beaver Area Heritage Museum, six-plus years on the operating committee of the Beaver Station Cultural & Event Center and two years as president of their parent organization, the Beaver Area Heritage Foundation. As museum chair, he helped resolve three of the organization's most pressing issues -- ineffective recruitment and retention of volunteers, underwhelming fundraising and a moribund education program for elementary school students. An annual corporate sponsorship program he created for the museum in 2012 has raised more than $140,000 since that time.
A Passion for Professional Leadership and Community Service – At age 25, he was tapped to be vice president on the board of directors of the United Way of Beaver County, a role he held for three years. Today he serves on the operating committee of the Beaver Station Cultural and Event Center and in recent years on boards of the Beaver Area Heritage Foundation and Mental Health Association in Beaver County. He has been a guest lecturer at Robert Morris University, West Virginia University's College of Business and Economics and Community College of Beaver County. Earlier, he was an executive committee member of the American Cancer Society in Pittsburgh and president of a client-founded charity focused on the fight against cancer as an outlet for employee grief after three key executives died of cancer within 18 months.
In 2008, Miner led two organizations' involvement with Pittsburgh 250 to celebrate the city's 250th birthday. He has been a Judge for Pittsburgh Magazine's "40 Under 40" awards and the PR Society of America Renaissance Awards; chair for two years of Rotary District 7300's PR Committee serving 1,500 members in 51 clubs; and a trustee of the Beaver Area Education Foundation. In 2005, he was honored as "Rotarian of the Year" for District 7300 in southwestern Pennsylvania. His pioneering genealogy and social history site, Minerd.com, twice has been named one of the "Top 10 Family Websites" in the nation by Family Tree Magazine and marked its 20th year online in 2020.
Photo by Emmanuel Panagiotakis