The Strategy of Historic Preservation at the Award-Winning Beaver Station Cultural and Event Center
At a time when the Pittsburgh region is humming with innovation and activity, an all-new economic generator has emerged that is preserving a valuable historic landmark and providing a unique public face to a local historical society – the Beaver Station Cultural & Event Center of the Beaver Area Heritage Foundation.
Built as a passenger station in 1897 by the Pittsburgh & Lake Erie Railroad, and converted in 1986 to the county's 9-1-1 emergency response center, the facility became vacant in 2010, with no clear plan for its future. Featuring original, beautiful stained glass windows, terrazzo-tiled floors, box beam ceilings and attractive brass fittings, this gem could have been converted to offices or retail, or torn down completely.
A vital piece of local history reflecting the bygone glory days of railroad travel could have disappeared. Visionary officials with the Borough of Beaver purchased the building for safekeeping. They then asked the Heritage Foundation to develop a preservation plan, using the same "magic" as in the mid-1990s when it rescued the P&LE's former freight house from oblivion and turned it into a nationally award-winning heritage museum.
Today, after raising $2.8 million from more than 350 donors, based on a solid business plan, the Station has been completely restored and financially self-sustaining. The 2,500 sq. ft. main floor serves as an event center drawing 9,000 people annually for weddings, holiday parties and concerts, with dates already solidly booked for 2020 and 2021. The lower level serves as the collections management center for the Heritage Foundation's museum as well as meeting space for Sewickley's Sweetwater Center for the Arts and the Beaver County Genealogy and History Center.
It's received glowing press and accolades from groups ranging from the Young Preservationists Society in Pittsburgh and the Pennsylvania Department of Community and Economic Development to the Pittsburgh History and Landmarks Foundation. In 2017, it received a "Pennsylvania Historic Preservation Award" presented in Harrisburg by Pennsylvania First Lady Frances Wolf.
Station Chair David O'Leary and Venue Manager Leanne Rogowski recently sat down with Mark Miner to explore why the Station has become so popular so quickly and how it has added an entirely new level of cultural value to the community. Miner has been a member of the Station's governing committee since inception.
Question: Dave, what was the driving reason behind why the Heritage Foundation agreed to take on this project in the first place? You were president at the time.
O'Leary: The project landed in my lap, as president. We started with a year-long feasibility study - considering uses, costs and fundraising. Could we raise the funding and, if we did, would the property become self-sustaining? There were no definitive answers to these questions so there were inherent risks to the Heritage Foundation. In the end, I flipped the question, and asked "What if we didn't do it? What if we said no to the borough? That was an unthinkable answer from an organization dedicated to historical preservation. Our answer had to be "At least we'll try."
Question: From a big picture point of view, what over-arching values have the Station brought to Beaver and Beaver County?
Rogowski: The goal of the Heritage Foundation is to preserve the past and enrich the future which has absolutely been achieved. People in Beaver definitely appreciate that a building that has been in their community since before they can remember has been saved and restored. People from other Beaver County communities and Pittsburgh simply appreciate that the property is historic and that the restorations saved many of the building's original features. The Station brings to Beaver and the County, an impressive restoration project that is a beautiful space for celebrations and people to gather.
O'Leary: Historic preservation is an important community endeavor, especially here in Beaver, the county seat, which has a lot of history, including the site of our Revolutionary War Fort McIntosh. Saving the place was important for posterity. The station could have been torn down but now will likely be here for generations. We host activities here that otherwise would be held outside of Beaver or Beaver County. We create opportunities for the artistic community including art classes, musicians, food suppliers, disc jockeys and photographers. We also host free community lectures on history related topics.
Question: What have been some of the main reasons it is so popular?
O'Leary: It's a unique historic property. People are looking for unique venues. It's visible, on the main street of town. We found just the right, talented venue manager who manages events and promotes the venue on social media. That builds momentum. It comes down to a unique building and capable event management. Our tagline is "Experience vintage elegance at Beaver Station".
We as a historic organization first had to restore it as accurately as we could. We made some changes in ancillary parts, but otherwise is very much as it was in 1897. It's not a huge space but is intimate for the right size of events. It makes a great first impression with visitors. The reviews are delightful, just glowing remarks. They say, "The place is great, all our guests loved it, Leanne was great to work with." The reviews are an important part of the marketing.
Rogowski: The main reason for its popularity is that it's a unique event venue with incredible outdoor spaces. Clients find the vintage charm and beautiful gardens appealing and the fact that it's not like any other venue. Clients also feel that the event hosts are extremely knowledgeable, finding them helpful and trustworthy.
Miner: At one of our Cabin Fever concerts this year, Rob James of the Clarks and Bill Deasy of the Gathering Field riffed glowingly about the charms of living and visiting here. Having that kind of unexpected, heartfelt endorsement is gold.
Question: Leanne, other than word-of-mouth, where and how do brides-to-be learn about the Station? How important is the Station's online and social media presence in generating inquiries, first meetings and sales?
Rogowski: Brides learn about the Station in a variety of ways. The only paid advertising that we utilize is Wedding Wire, which is a bridal planning website. We also heavily rely on social media and Google to generate interest in our property. Our team documents every event by taking photos which are then used the following week for Facebook and Instagram posts. Photographers hired by our clients also send us photos to use for the posts.
Glamor images are very important to today's clients. Seeing actual weddings photographed allows them to envision their own wedding at our location. It's much different than just pretty photos of our event spaces without people in them. This type of promotion is more real, and couples appreciate that. Many clients also tell us that they found us by performing a Google search, so our Google page is also updated with current photos on a regular basis.
Question: What were the most important keys in initially selling the Station concept to the community?
O'Leary: We started with the case statement, a good discipline, writing down what we intended to do, so that we could communicate that to prospective donors. We made a case as to why this building was worth restoring. The Heritage Foundation had a good track record based on the success of the museum in the '90s. We also developed a business plan to make the Station self-sustaining and spent a lot of time thinking that through. A venue was not our first idea but in the end was the one we coalesced around. If we could get this built, it should more than pay for itself. Donors don't want to give to something that, once done, doesn't have enough money to pay the light bills. And the Heritage Foundation couldn't risk that.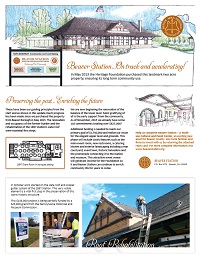 Early case statement for attracting support
We went to the community first and received some significant private commitments. That gave us the critical mass to get off to a good start on our $2.7 million capital campaign. We then qualified for a Pennsylvania Historical and Museum Commission grant for slate roof repair. The next big milestone was a matching grant from the state through its Redevelopment Assistance Capital Program for $700,000.
Our local representatives helped us with this, and our existing community support was an important factor -- not just the approximately $500,000 we had raised but also the large number of donors. We then went to the corporate and foundation community in Pittsburgh. With the earlier layers of giving, the foundations could foresee success which qualified our project for "capstone" giving. The Allegheny Foundation got us over the top with its generous $500,000 grant.
Question: As a wedding/event venue, what are some of the top reasons why the Station is so attractive?
Rogowski: What sets the Station apart from other venues is that it is a unique property with a reputation for outstanding customer service. A surprise venue location tops the list with today's couples. Banquet halls, hotels and barns have become all too common. Having a beautiful outdoor ceremony site on our grounds adds to the appeal. Couples want to have the ceremony and reception all in one location, and appreciate that it can be held in two distinct areas of the same campus.
The covered outdoor space is a huge selling point that allows clients to still be outside and take advantage of the beautiful gardens while protected from the elements. Outstanding reviews from our clients via social media and Wedding Wire provide prospects with the sense that they will be well taken care of during the planning and day of their wedding.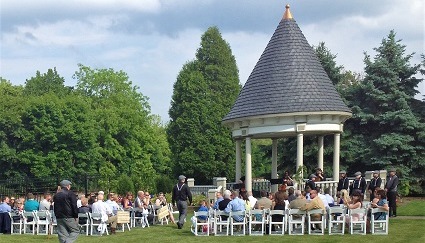 The Station's Belvedere and great lawn provide a unique, picturesque setting for outdoor events
O'Leary: When we decided to create a venue, we weren't sure how much money we were going to raise. One of the reasons it has been so successful is because thanks to our capstone donor, we were able to complete the finishing touches beyond the restoration. We added the reconstructed Porte Cochère, professional landscaping, a covered trackside courtyard, the unique Belvedere gazebo, an event lawn for outdoor seating and a bridal suite. Our business plan called for three years to get into the black. That's just about what happened. When Leanne has ideas for making the venue even nicer, we have the resources to do that.
Question: Dave, you spent as much time as anyone looking at the many small details of the restoration where we could continually improve the project. What are some of the highlights you remember?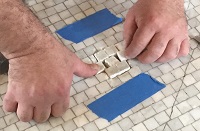 Experienced artisan replacing antique floor tiles
O'Leary: The original interior gas/electric lighting fixtures were long gone, but we found an old 1906 photograph that showed them. We sent the photo to firm in Washington State that replicates old lighting fixtures and now have beautiful vintage LED fixtures. The windows were old, original single pane sashes.
Our historic preservation architect Rob Pfaffman said we should keep the windows but add interior storm windows. We took his advice. They're almost invisible, and the average visitor doesn't see them. They significantly deaden the sound of passing trains and save energy. Because there used to be a station master's office right in the middle of the space, which was removed, we had gaps in the ceiling and floor tile that had to be repaired. Artisans were brought in to replicate the old floor tiles by hand, using the same little marble tiles he had found in a Catholic church in Pittsburgh.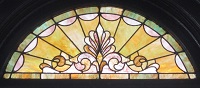 Original stained glass windows dating to the 1890s
Some of the stained glass windows were fine, but others were in bad shape and needed to be re-leaded. We took some to an artist's studio in Millvale who re-leaded them. We were one short on the half-round windows, and authorized Kelly Art Glass to make a special commemorative window, which includes the P&LE and BAHF logos with dates to look very much like the old ones.
We rebuilt the original Porte Cochère – carriage port – which was removed in 1933. It wasn't something we had to do, but we wanted to, because it was on the building originally. We had the original drawings and photographs of how it looked and even knew where the original Cuyahoga Redstone was quarried in Ohio. We found a skilled mason who was able to source the stone from the same quarry and even made a custom striking tools to replicate the original mortar joints. I love to tell people that the old stone was quarried in 1897, and the new in 2015, and you can't tell the difference.
Question: Other than weddings, what other types of unusual events have been held at the Station?
Rogowski: Private events are typically momentous occasions. We've hosted 1-year-old to 90-year-old birthday celebrations, engagement and anniversary parties, baby and bridal showers, garden club teas, client appreciation dinners and nonprofit fundraisers. Public events have included the Cabin Fever Music Series concerts, wine tastings, afternoon teas, art exhibits, pig roasts and an Oktoberfest celebration.
O'Leary: We created a legend that a passing train is a sign of good luck and the guests love it when a train goes by. Trains pass once or twice an hour and we don't even charge extra for it.
Miner: I've attended several client Christmas dinners here. It never fails to impress.
O'Leary: The lower level also has provided all new space for the Heritage Museum's growing permanent collections of tens of thousands of artifacts, archived for future generations. The collections are managed by a committee of dedicated people who process donations one day a week. It's surprisingly nice space, with glass block window wells and high open ceilings. Capturing the history of Beaver is among the best aspects of the Station.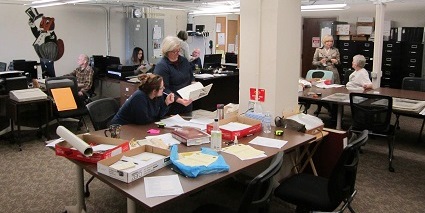 Beaver Area Heritage Museum's collections management space, lower level
Question: Look into your crystal ball. What more do you envision for the Station over the next 5 to 10 years that could enhance Beaver County's attractiveness to economic and community development?
O'Leary: We're open to good ideas. Other organizations might consider using the space on a regular basis. We always could find more uses for weeknights and the winter months. The Cabin Fever Music Series is so popular that we might expand that.
Rogowski: Beaver Station's popularity as a premier wedding venue will only continue to grow over the years. Popular wedding dates are starting to book two years in advance and in 10 years, I predict most of the warmer weather dates will book that far in advance as well. Our clients utilize many of our local businesses for additional services needed when hosting an event at the Station. Caterers, rental companies, florists, bakeries, hotels and local restaurants all benefit which contributes to our local economy. Thriving businesses in our area can only help attract additional community development.
Miner: And we are so grateful for our generous Station sponsors whom we hope will grow with us over the long term. This year, 2019, we're blessed that UPMC Health Plan, Heritage Valley Health System, Huntington Bank, Pacer Studios and the Spanos Group of Raymond James continue to see the value of affiliating their brands with ours'.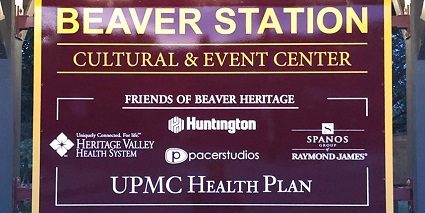 Prominent Beaver Station signage along the town's main street
Learn more about Beaver Station at www.beaverstation.org.